7 Working Out Just Enough
Working out seems like a common option when people want to lose weight, however too often people start busting their butt at the gym, and sweating like crazy for hours every week, only to see minimal gains on the scales. What's going on here? Why wouldn't the fat 'melt away'??
There's a few reasons this can happen, and it's important to understand the 'Minimum Effective Dose' principle. Also important to note is that most people lose fat following the slow carb diet, without exercising, and therefore any exercise should be 'just enough' and no more, as you increase exercise every week, you increase stress, and this can trigger the hormone Cortisol to be released into the body, which for some people spells the end of fat loss.
Exercise can come in various forms, however its important not to confused exercise with physical recreation. Exercise is a dosed amount of activity that is repeatable, and is done for a result. Therefore, some of the recommended workouts to follow include:
The 6 Minute Abs Routine
Kettlebell Training OR
Occam's Protocol (minimal weights training)
Book Chapters
"Building the Perfect Posterior"
"Six Minute Abs"
Advice
Moderately challenging should be your goal – you want to be able to do it again, the day after tomorrow. Raise your pulse, and breathe a little more deeply than usual, but don't go into a very high level of intensity.
For the above routines, using a timing device ensures the best quality workout, and the best results. At worst, a stopwatch can be used, however for many of the activities, an internal timer can be used to much better advantage.
The interval timer I recommend is called the 'Gym Boss Max' and features programmable settings, to make sure you can create custom programs for your workouts. The difference between counting in your head, compared with using a vibrating timer is like night and day.
The 'Max' has a lot more useful features and is much better value:
Get more information on this great little gym timer here
Articles
The Golden Rule of Slow Carb Fat Loss – The Right Amount of Exercise
The book recommends kettlebell training (like weights, but a little different), as kettlebells are incredibly versatile and compact, and therefore great for at-home workouts. There are seemingly endless options when it comes to what exercises you can do with them – the book includes some examples in the Perfect Posterior chapter, and there's some links to workout DVDs below.
Before you get started, sore hands and sore wrists can be a fact for some people. I strongly recommend taking to proactive care of both, and using a wrist support and padded grip system that I use for all my workouts. Called 'New Grips', they are far superior to workout gloves, as they provide more flexibility, and offer proper padding in the grip, plus supporting the wrist. That component of the system can also be used for playing musical instruments, tennis, golf, etc.
I made a video review of these grips – you can see it here.
Check them out at http://www.fourhourbodycouple.com/link/NewGrips/
Kettlebells
Kettlebells are great to workout with – there's a lot you can do with them, and there's endless supplies of workouts if you get sick of the ones in the Four Hour Body.

Recommended for women to start with either 15lbs or 25lbs.
15lbs:

Click here for more information
25lbs:
Click here for more information
Women's Set from DragonDoor
A set provides a great, complete option for all kinds of different workouts.

Click here for more information
Recommended for men to start with 35lbs or 50lbs.
35lbs:
Click here for more information
Click here for more information
Men's Set from DragonDoor
Starting with a set means you can enjoy different kinds of workouts, and actions.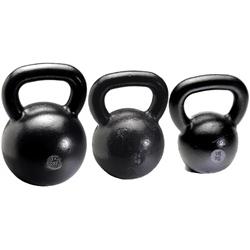 Click here for more information
Kettlebell workout programs:
The Kettlebell Goddess Workout DVD
Enter the Kettlebell! Book and DVD Set
Kettlebell Mommy - Staying fit during pregnancy


Super Joints Book (click here for more info on the book)
and DVD (click here for more info on the DVD)